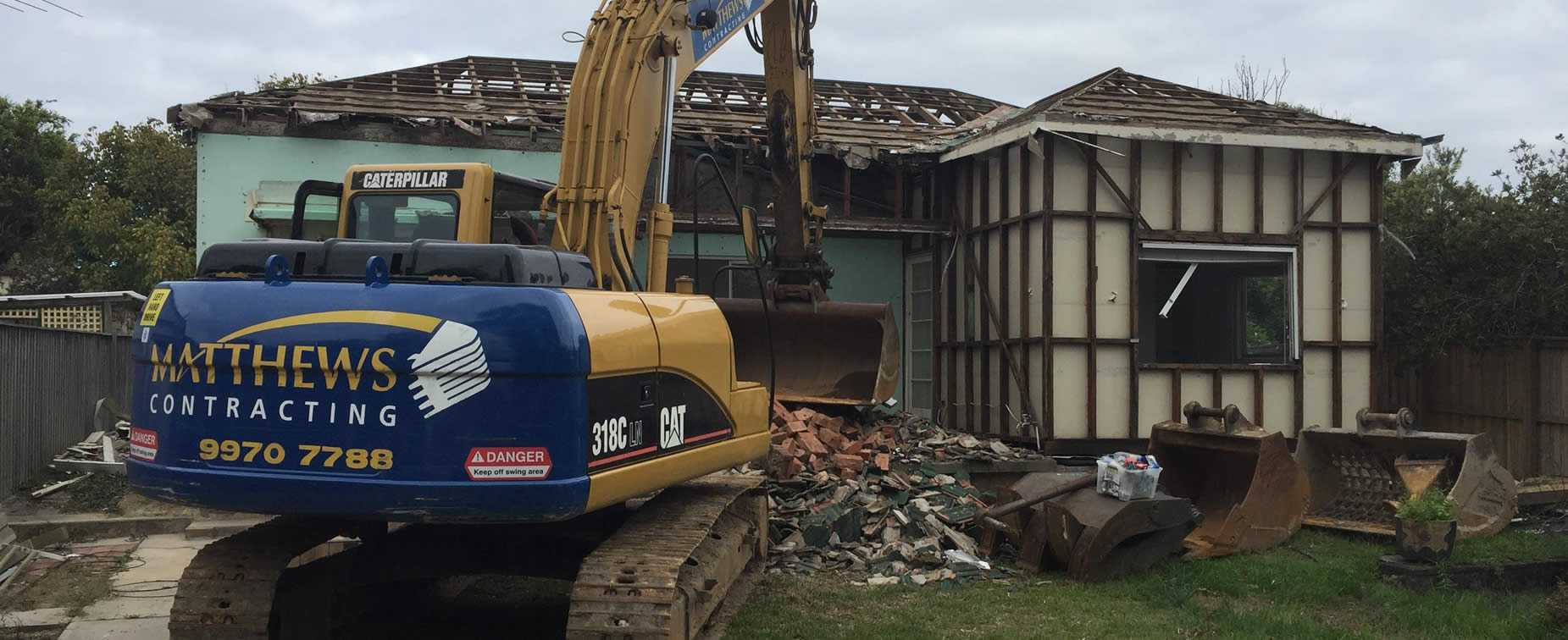 Highest Standard of Demolition
All demolitions are overseen by our fully qualified Supervisors and facilitated to the highest safety standards, in compliance with Workcover NSW. We also ensure that full Occupation Health and Safety Documentation is provided for our worksites including complete work method statements tailored to each site.
Reduced Vibration Noise
To ensure vibration is kept to a minimum we use the latest equipment such as concrete cutters which make much lower noise levels than conventional equipment. We can also provide vibration monitoring services should the need arise so that the primary site and any neighbouring properties remain non-affected.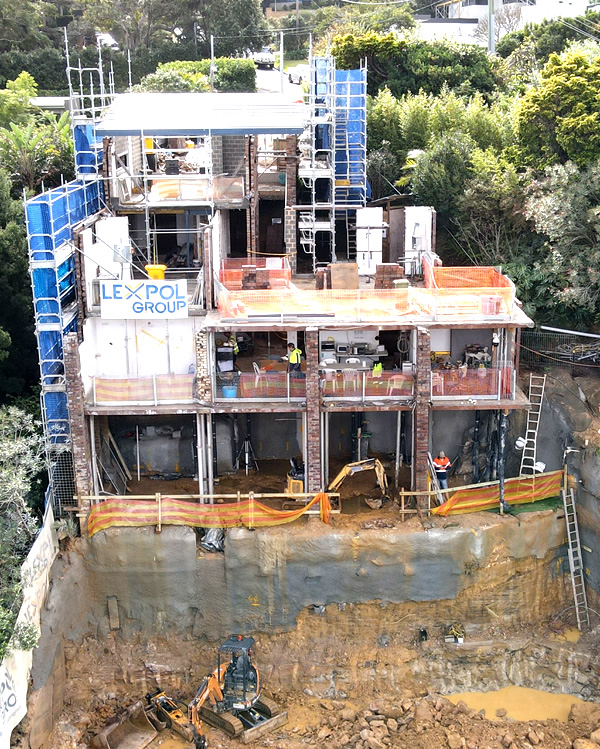 Partial Demolition
Partial demolitions are often required when house remodeling is going to be done. This specific aspect of demolition requires a special level of care so this is why we have our own crew of labour who know how these jobs must be conducted.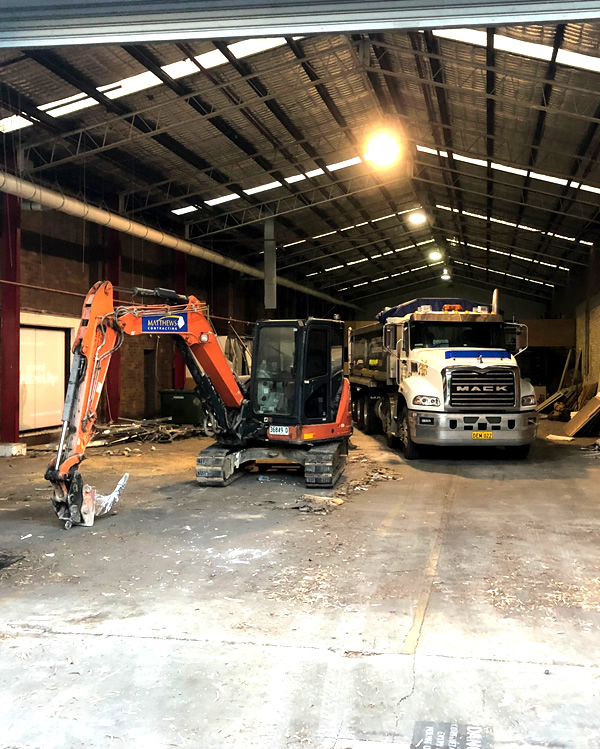 Factory Demolition
Our company has all the hand tools and machinery required to complete these types of projects. One of the specialist tools we have is a set of metal cutting shears that can cut steel beams. Concrete cutters and pulverizers are also often required on these jobs to remove concrete slabs.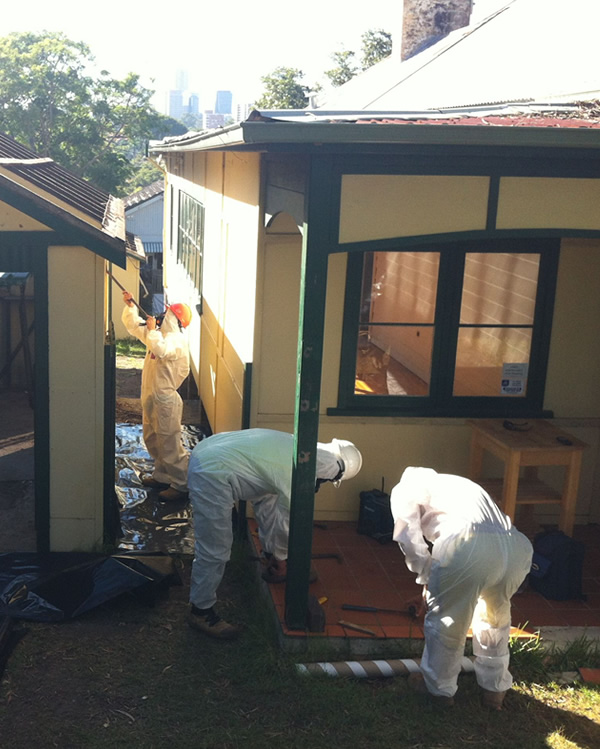 Asbestos Removal
Asbestos can come in a wide variety of products and is found in many locations including, inside, outside, and under dwellings.
Our company works closely with hygienist companies to test and locate these hazardous products. Our fully trained and licensed team will then safely remove the product and disposed of it at a licensed landfill destination.
We always provide tipping receipts and locations of the disposed of material in accordance with EPA requirements.
Most of our trucks are GPS-tracked and monitored.
Our sites are always left completely clean and ready for their next stage of work.
A core Matthews mindset is to do every job perfectly including the safe handling and removal of asbestos.
Find out more detail about our Asbestos service here
Pool Demolition
There are generally 2 types of pool demolition
Full removal and backfill to the desired level with clean material
Partial demolition where poolside walls are reduced to lower than finished ground level and then filled
Pools are generally backfilled with the demolished top section of concrete and clean fill
This second option is normally used when there is difficult access or the client wants to minimise cost.
Equipment often used for these projects are bobcats, small excavators, and motorised wheelbarrows which are all part of our fleet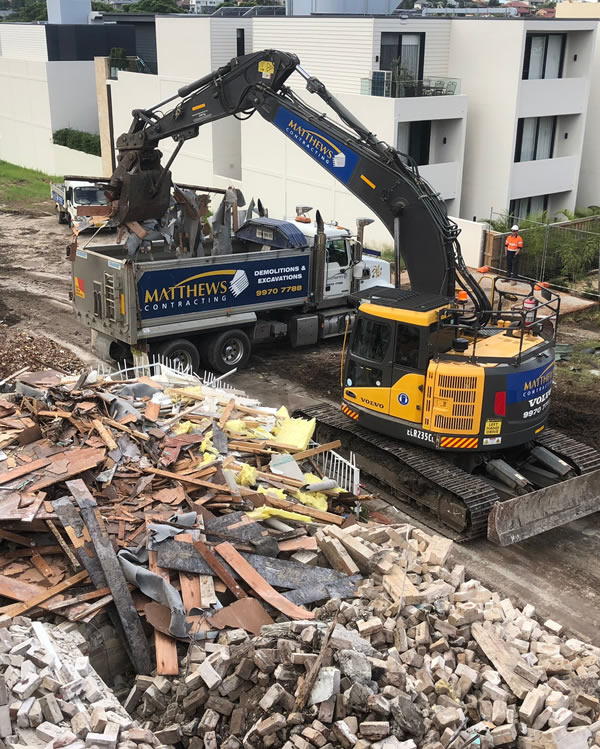 Residential Demolition
A common project for Matthews Contracting is to demolish an ordinary one or two-storey house.
Our company will prepare the house by hand and separate materials to ensure a safe demolition for the neighbouring properties. We also install safety scaffolding that was required to protect neighbouring properties. All masonry materials are recycled to minimise landfills.
Our experience with hundreds of these jobs minimises the risk and ensures the demolition is done the right way for the particular site and building.
Before the machine completely removes the house all buildings are given a clearance certificate by an independent company which ensures no asbestos remains. A copy of this is supplied to the client.